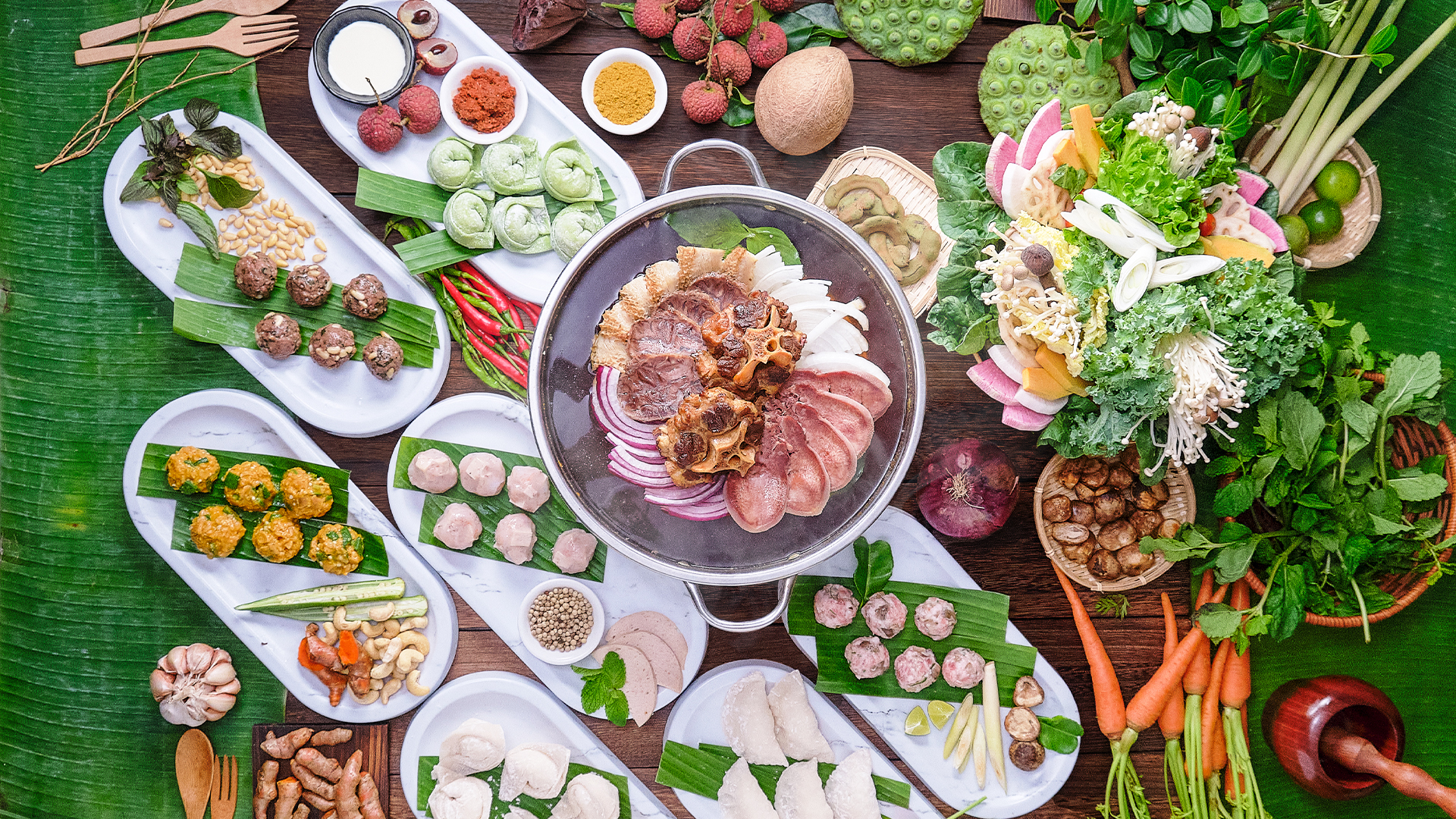 Megan's Kitchen's Culinary Staycation Destination: Southeast Asia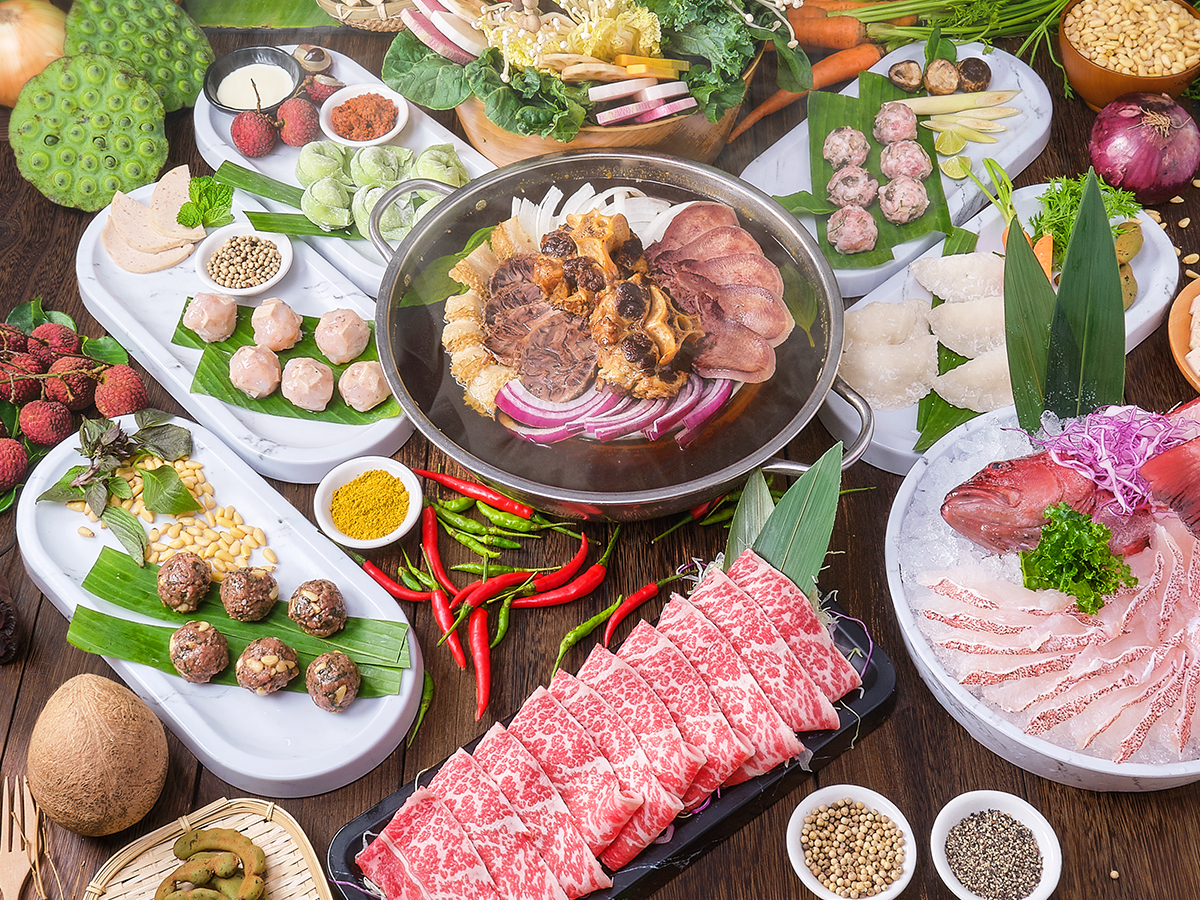 Southeast Asia is one of the most popular tourist destinations because of its beautiful sceneries, historical architectures, buzzing street markets and interesting cuisines to explore. When it comes to food, each region has a unique flavour that is brought out by the place's own blend of herbs and spices, the distinctive flavours and aroma of Southeast Asian Cuisine is a delightful treat.

This year, with travelling plans still on hold, Megan's Kitchen created a new Hot Pot Soup Base and a series of Hot Pot Delicacies that will surely remind you of your holidays in Southeast Asia.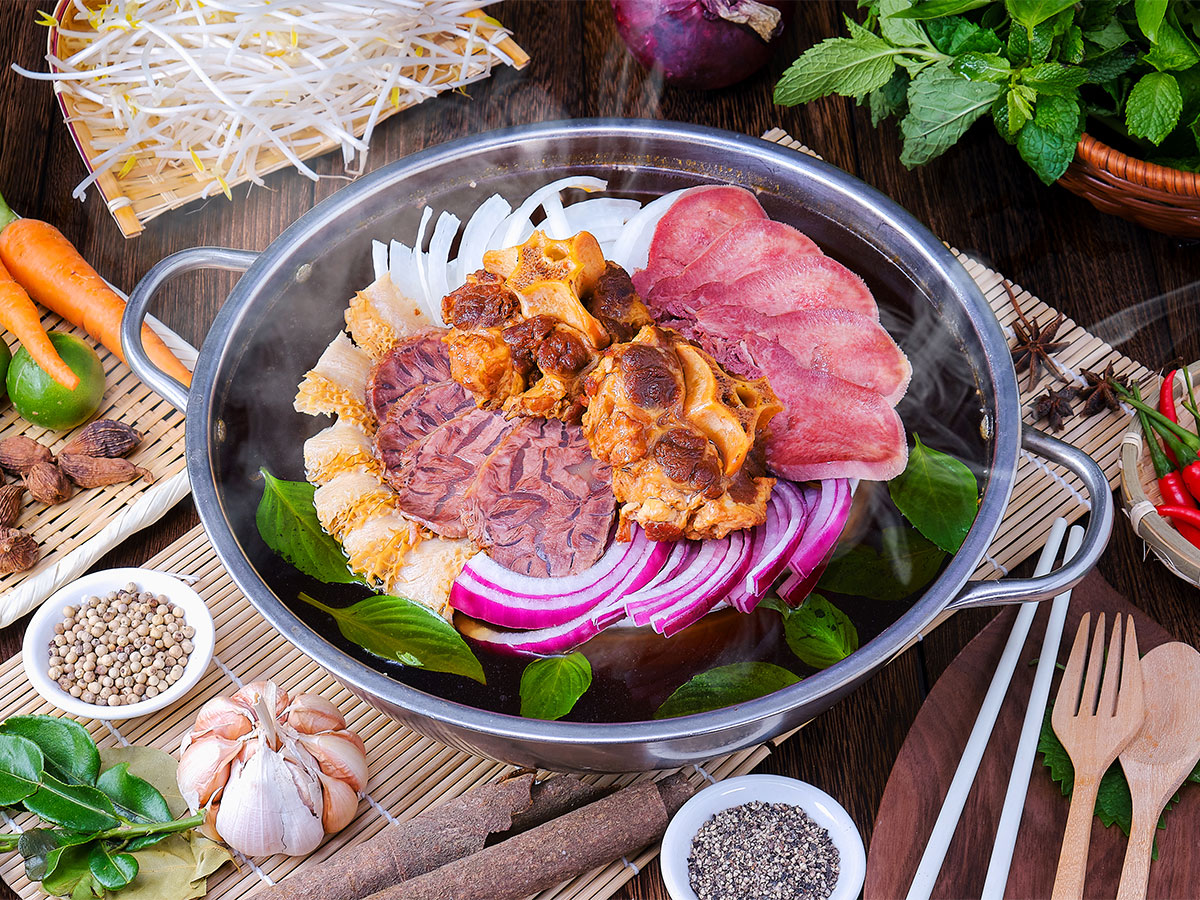 Vietnam Style Superior Beef Broth
(Big Pot: $448/ Individual Pot $228) *Limited, only 8 servings is available daily
Megan's Kitchen's Vietnam Style Superior Beef Broth is a fragrant and flavourful clear broth boiled and simmered for at least 12 hours daily with tons of Ox Tails, Ox Bones and a variety of aromatic herbs. This soup is served together with a beef platter containing cooked Ox Tongue, Ox Tail, Beef Tripe, Beef Shin together with a different condiments like fresh Basil, Lime Wedges, sliced Onion, Bean Sprouts, crispy shallots and minced peanuts. Guests can freely create their own "Taste of Vietnam". This hot pot soup base is perfect for seafood and meat as it brings out the freshness of these ingredients without being too overpowering.
Dumplings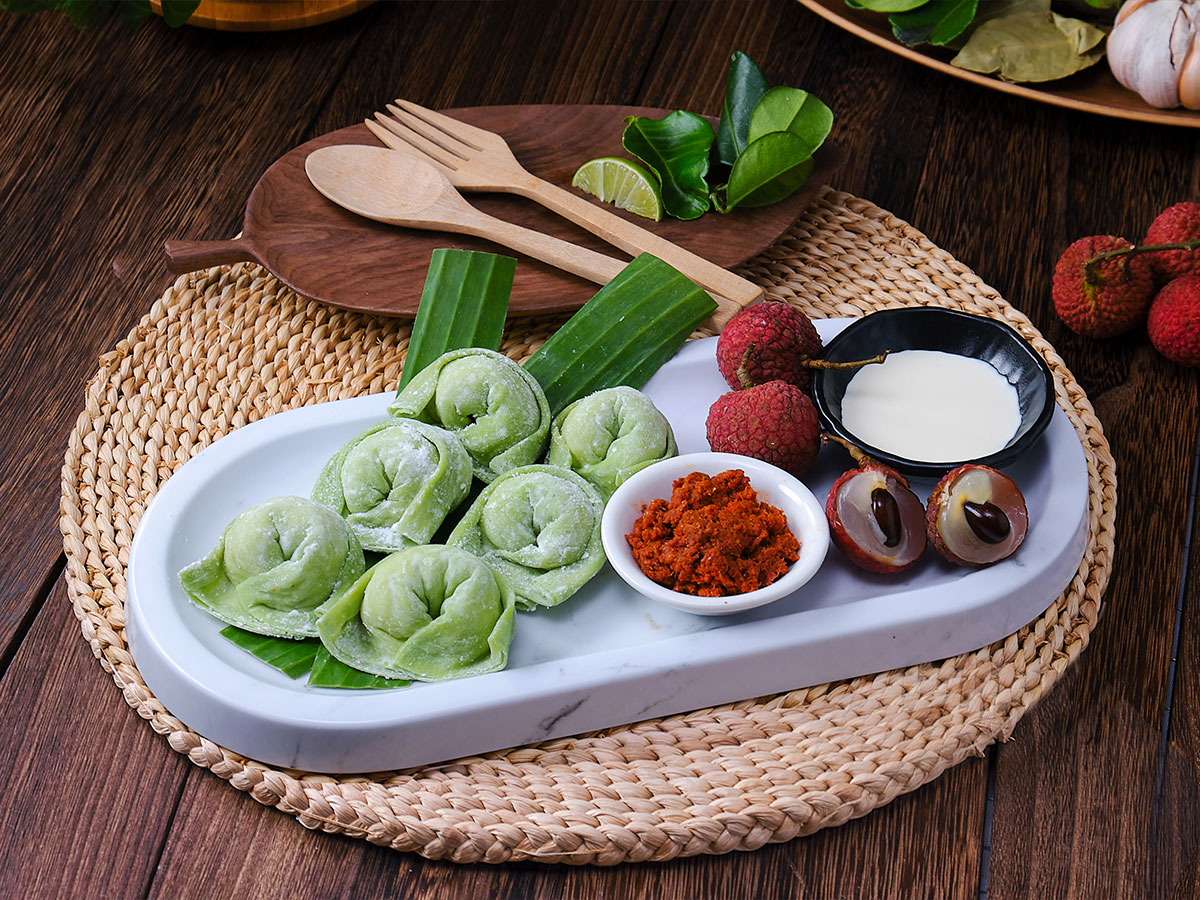 Thai Style Red Curry Roasted Duck Dumplings with Lychee
$148 (8pcs) | $88 (4pcs)
What is a complete Southeast Asian meal without Thai Red Curry? Nothing beats a hint of spiciness that tingles your palate. Lychee not only gives the dumplings a fruity and sweet kick that balances out the heat from Red Curry and oils of the Roasted Duck, the texture also differs from the duck meat which makes this meaty dumpling very interesting.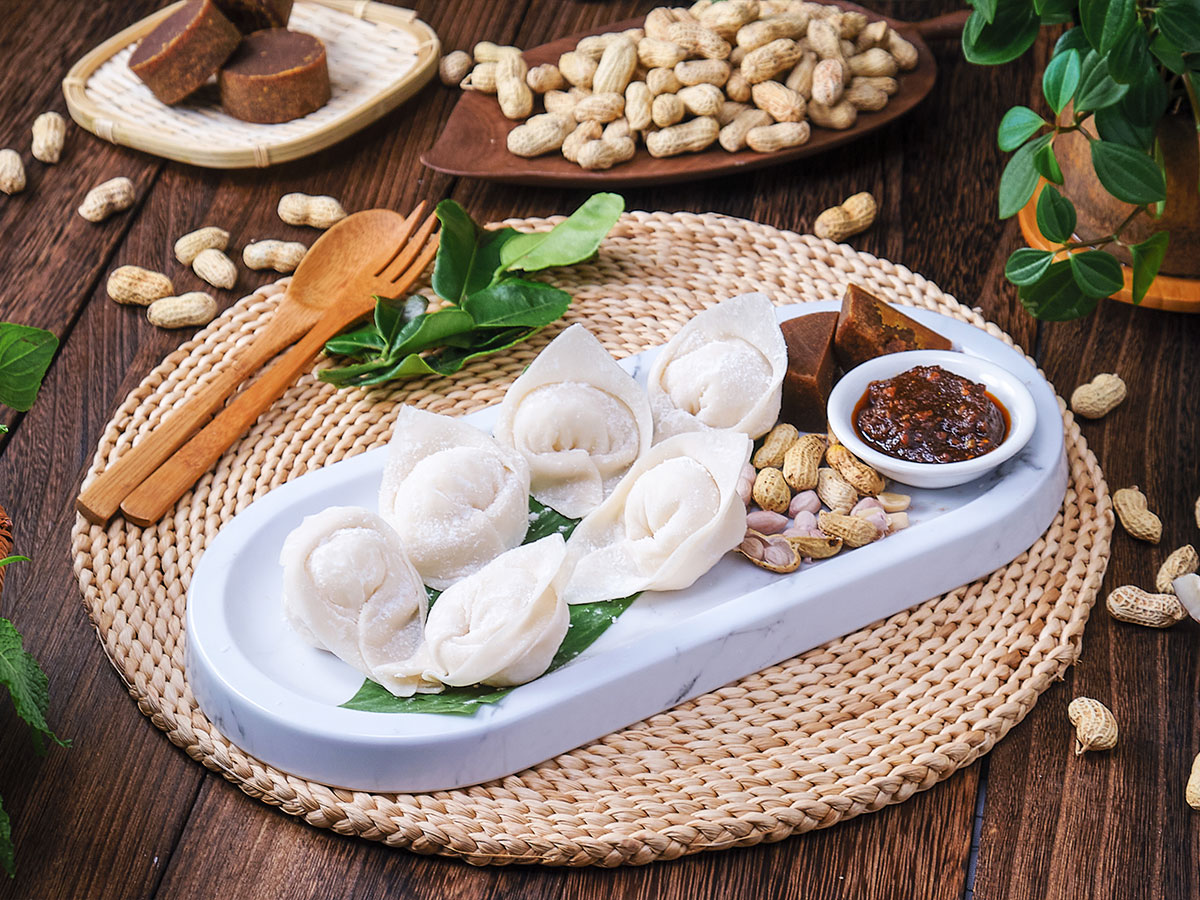 Malaysian Satay Chicken Dumplings with Peanuts
$108 (8pcs) | $58 (4pcs)
Chicken Satay can be found everywhere in Malaysia, from hawkers to food courts to five star hotels. Megan's Kitchen recreated this dish in a dumpling form. Coconut milk is added to the mixture to give the dumplings a sweet nutty salty taste which enhances the flavour of satay, while Peanuts gives it a crunchier texture — Truly a taste of Southeast Asia in one bite.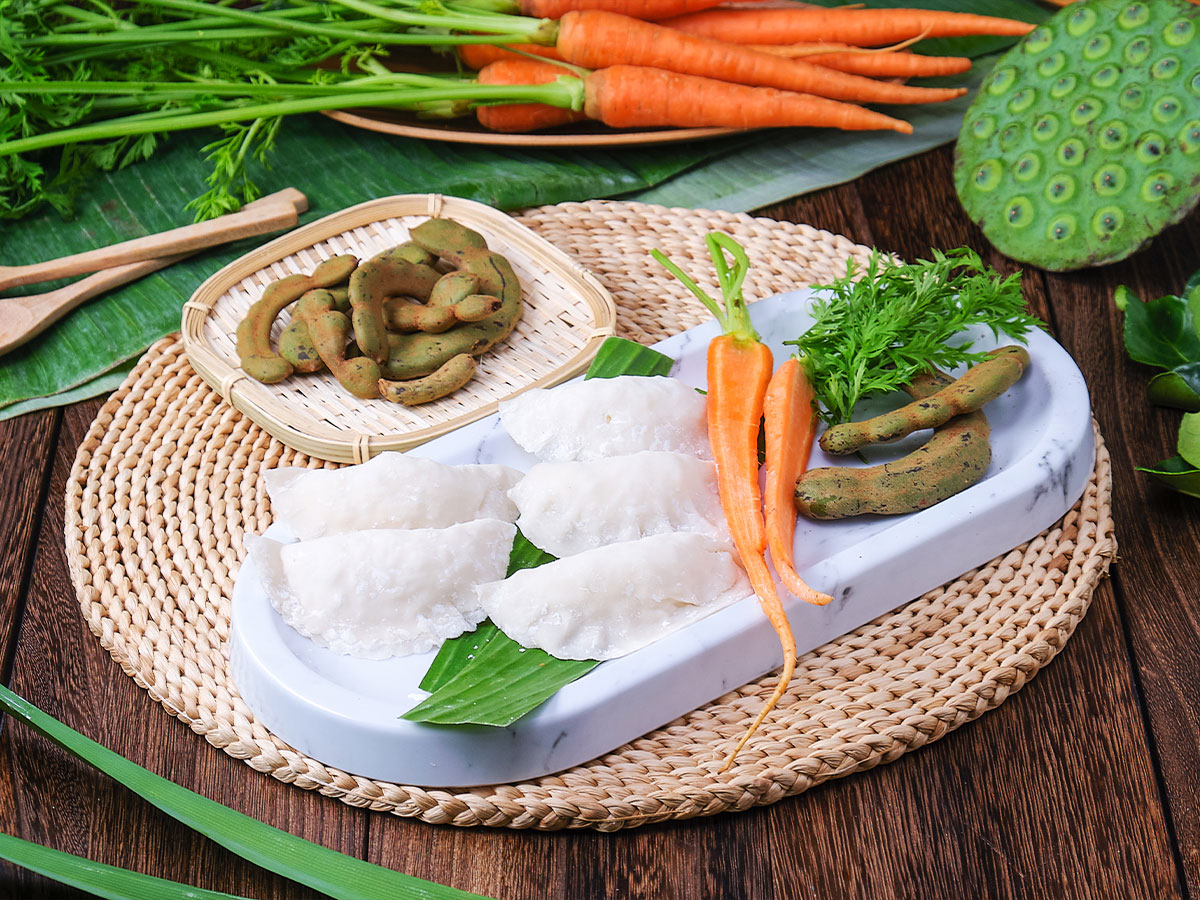 Thai style Vegetarian OmniPork Strips Dumplings with Beancurd Skin and Tamarind
$148 (8pcs) | $88 (4pcs)
The sweet and sour Tamarind Sauce and the unique texture of Beancurd Skin makes this dumpling irresistible. While Beancurd Skin may be quite bland on its own, the OmniPork Strips adds a meaty flavour to it, together with the Tamarind, egg and crunchy carrots, a light and refreshing dumpling is created.
Meatballs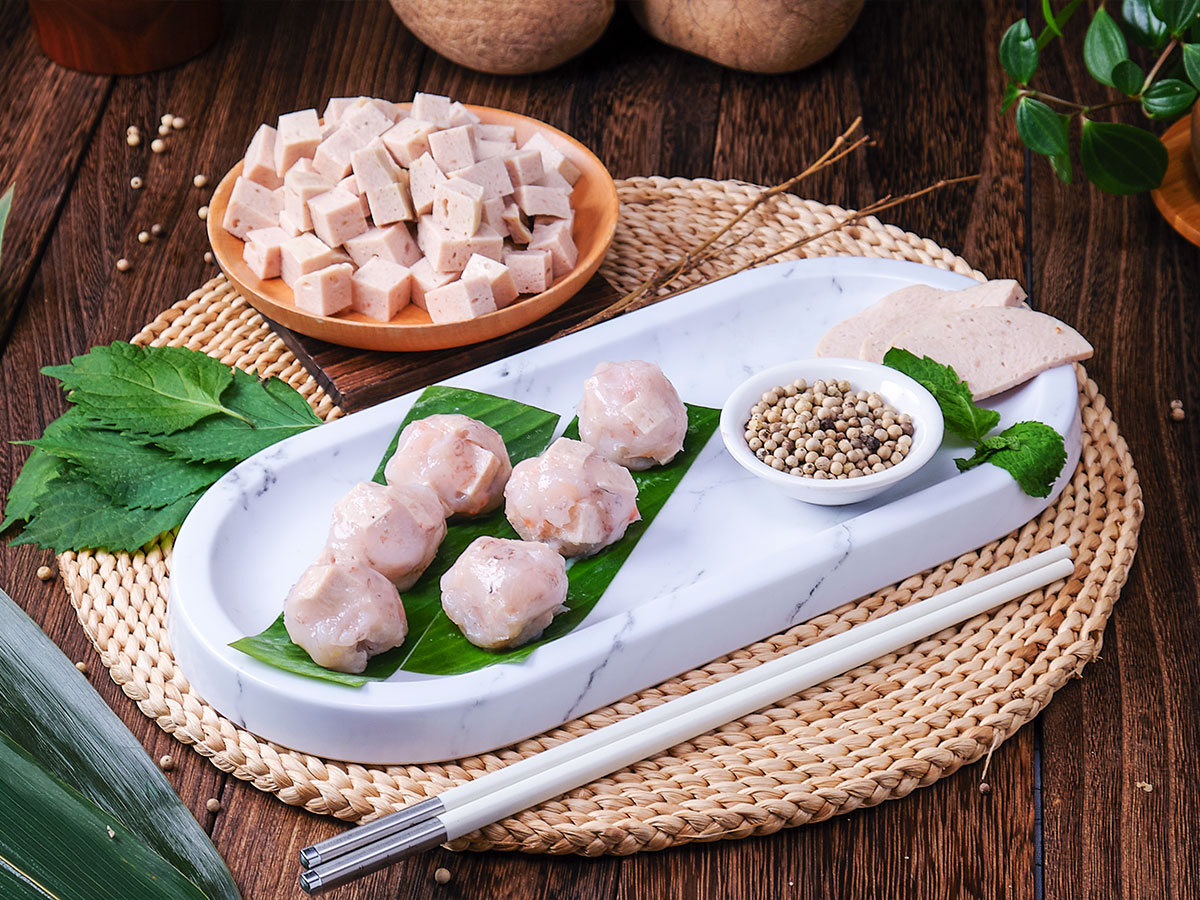 Vietnam Style Hand Beaten Shrimp Balls with Vietnam Sausage
$148 (8pcs) | $88 (4pcs)
Vietnamese Sausage is a regular ingredient in Vietnam cuisine. Our chef diced the Vietnam Sausage and combined it with our hand beaten fresh shrimp paste to make it become our new hotpot meatballs – Vietnam Style Hand Beaten Shrimp Balls with Vietnam Sausage. It is so delicious that we guarantee our guests won't be able to stop with just one!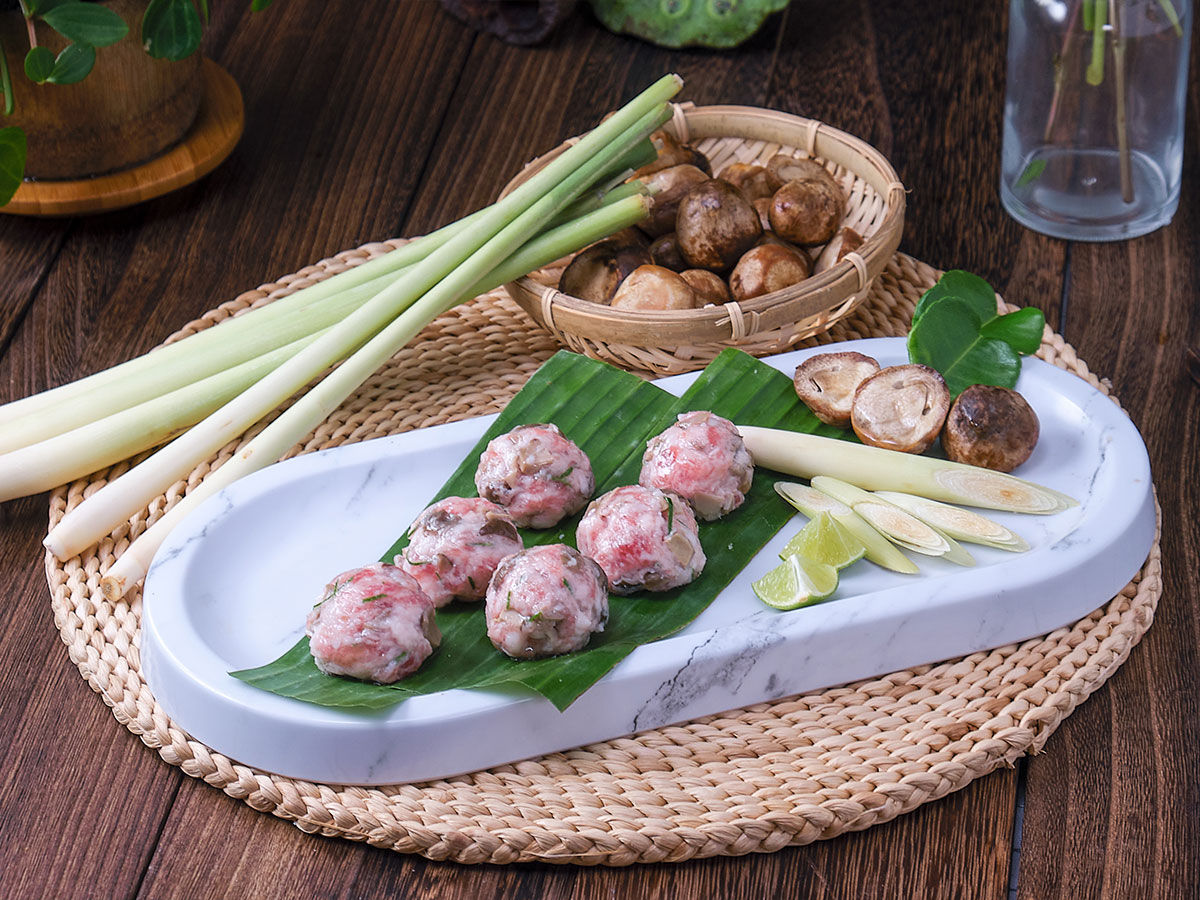 Vietnam Style Pork Meatballs with Lemongrass and Straw Mushrooms
$108 (8pcs) | $68 (4pcs)
This new meatball is a Vietnam cuisine influenced creation. Lemongrass, an essential ingredient in Vietnam cuisine, is not only has a lemon-floral flavour and citrusy aroma that balances complex flavours, it also has a wide range of health benefits, for eg. it is widely used as a natural remedy for digestive issues, neurological problems, and high blood pressure. Our chef added the juice squeezed out from the lemongrass to the pork paste to give an unique flavour to the pork meatballs and to balance out the greasiness of the pork, then added chopped fresh Straw Mushrooms to add more texture. Anyone who loves Vietnam cuisine will love this meatball.
Vegetarian OmniPork Meatballs with Turmeric and Okra
$128 (8pcs) | $68 (4pcs)
Turmeric and Okra are high in antioxidants and OmniPork is packed with Soy Protein and Yeast, this healthy vegetarian option is great for guests who enjoy something lighter. Dip this meatball in a little bit of soy sauce, or add in some freshly chopped chilli if you enjoy the heat, and you are good to go!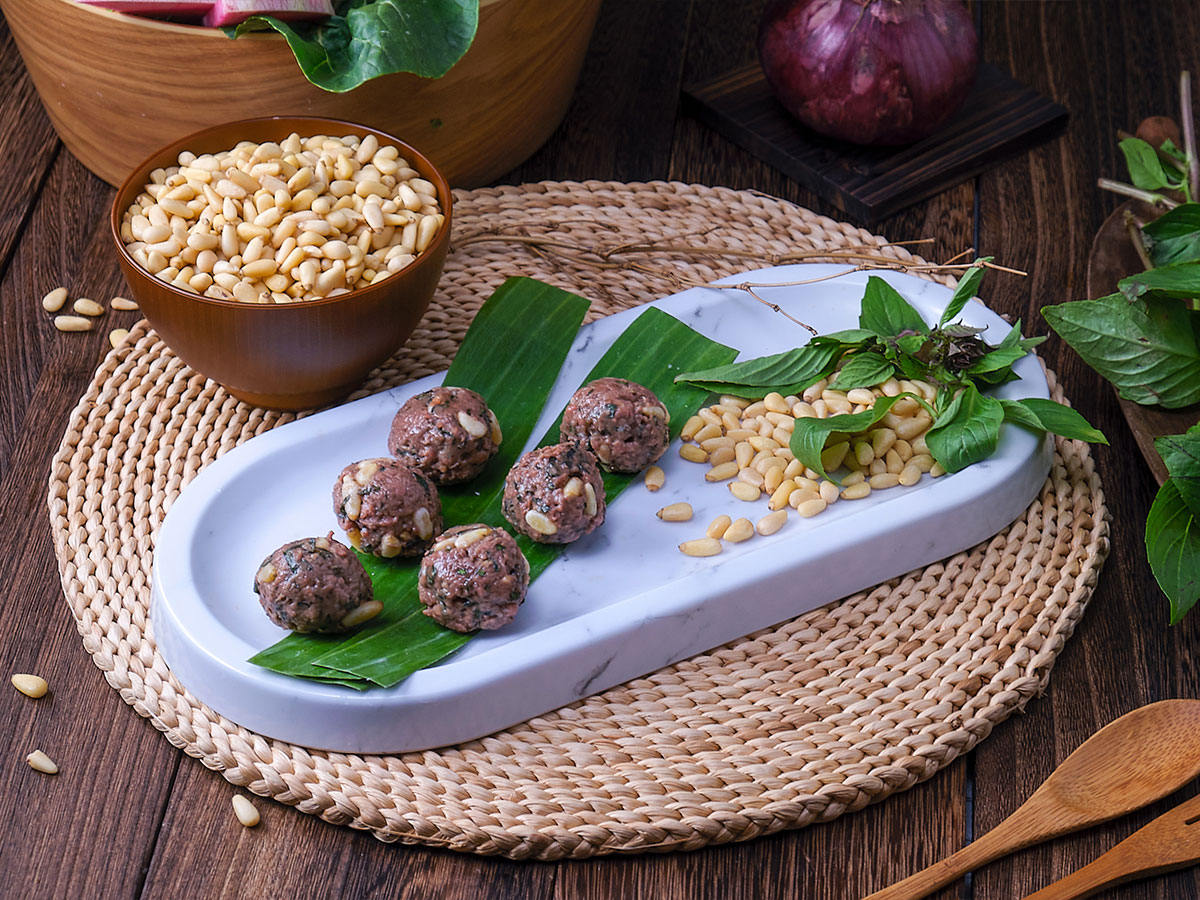 Vegetarian Beyond Meat Beef Balls with Basil Leaves and Pine Nuts
$168 (8pcs) | $88 (4pcs)
This aromatic and delicious vegetarian beef ball is made by Beyond Meat, basil leaves and pine nuts. This vegetarian Beef Balls are tender and a little chewy, mixed with the buttery flavour and softly crunchy texture of pine nuts, this Vegetarian Beef Balls sound even too tempting for meat lovers, why not give it a try?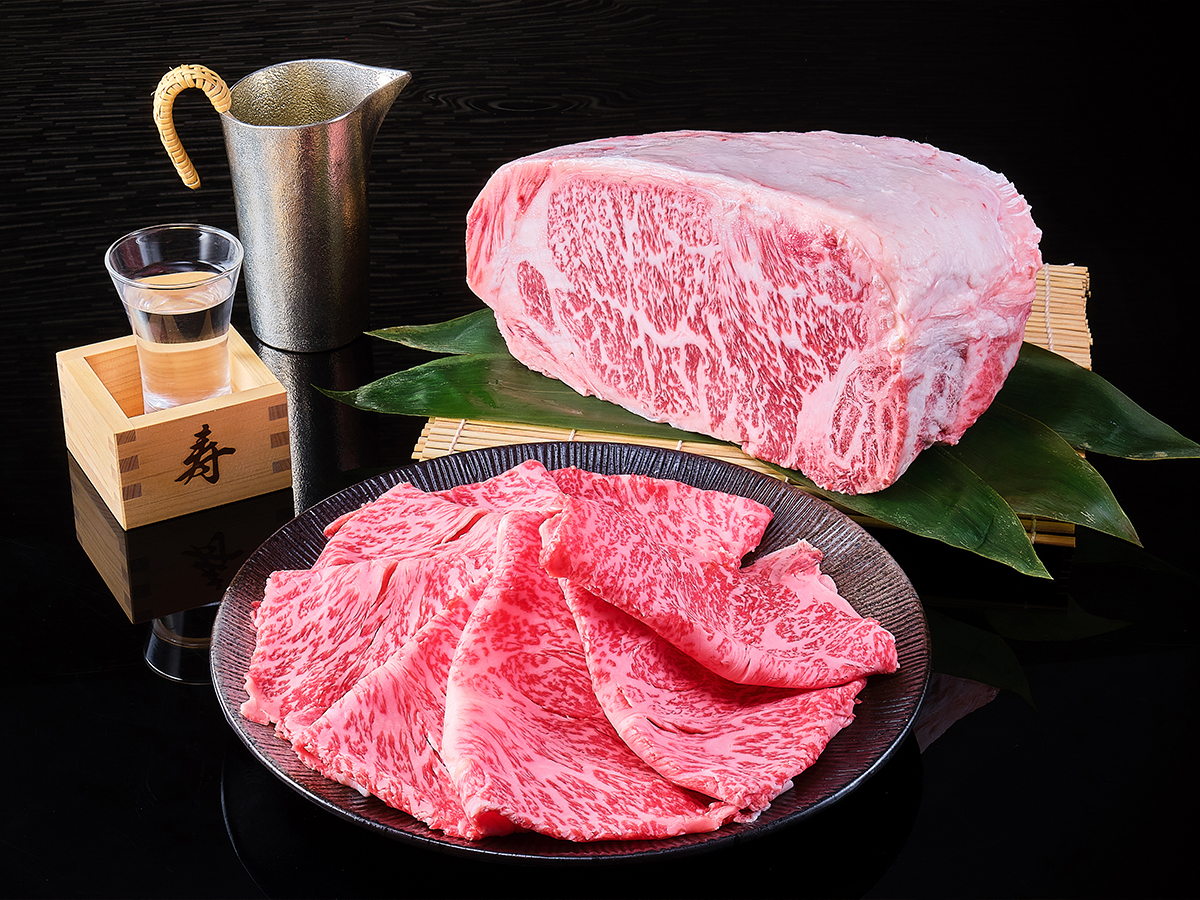 Satsuma Wagyu A5 from Kagoshima
Satsuma Wagyu originates from a privileged location in the southernmost part of Kyushu, Kagoshima. With a warm climate and beautiful natural scenery, the rare Satsuma Wagyu is ranked top among more than 200 types of Kyushu's Kuroge Wagyu. It has a nice red color and the fat is evenly distributed. Satsuma Wagyu is perfect for hotpot as it is very rich in flavour and melts in your mouth.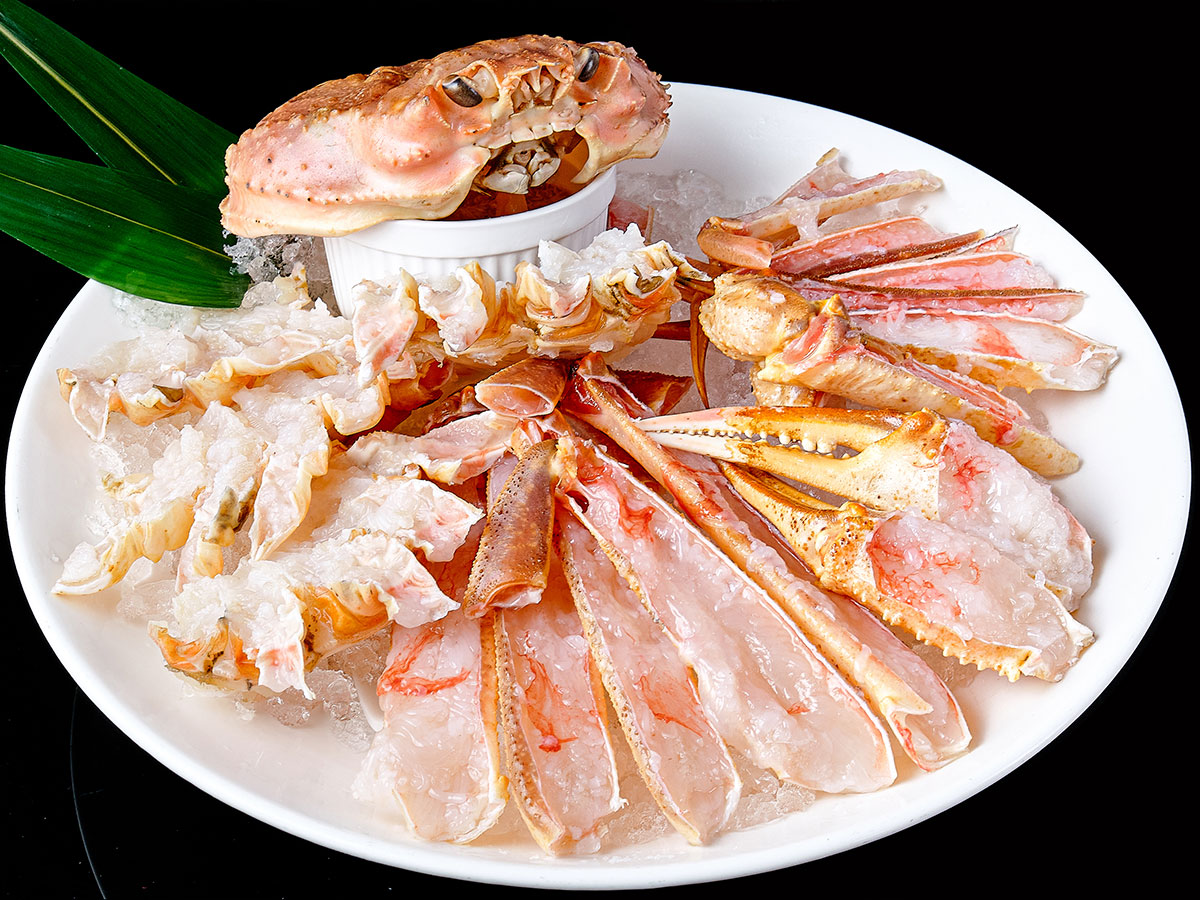 Matsuba Crab
Matsuba Crab is known for its sweet and tender meat. You can experience its freshness particularly with simple preparation, such as steamed or Hot Pot. You can know pre-order Matsuba Crab from Megan's Kitchen and enjoy it while supply lasts!